Tiny Epic Quest - Big adventure in a small box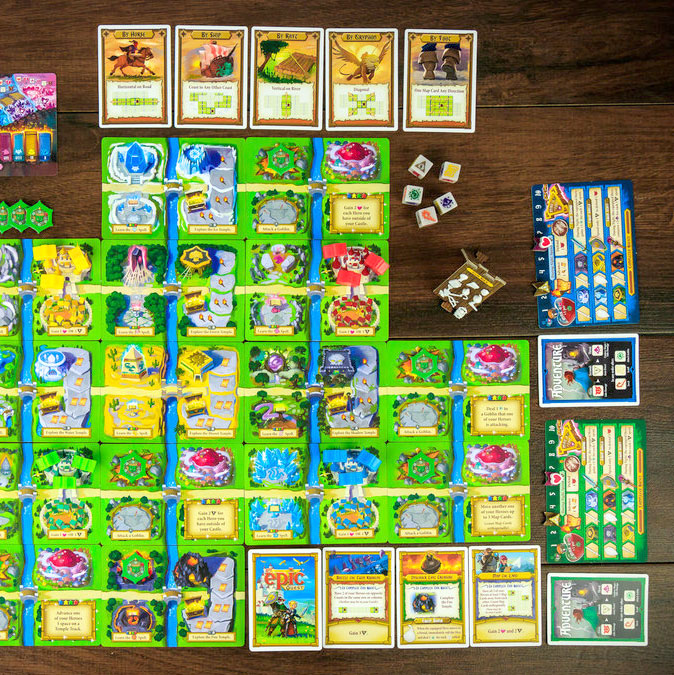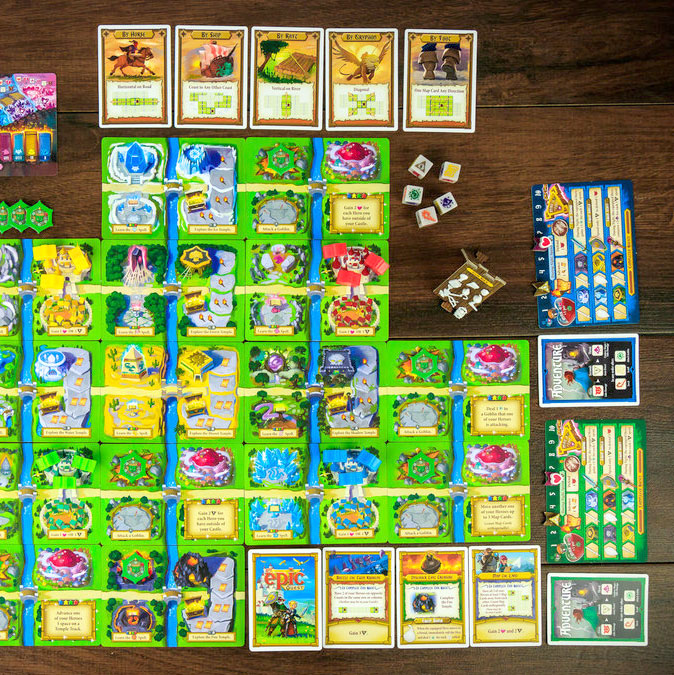 Tiny Epic Quest - Big adventure in a small box
The Goblins have set your Elf world ablaze, your quest is to defeat them but time and luck may be against you.
Tiny Epic Quest is a light strategy board game that is fun to play and suitable for 1 to 4 players. It is amazing how much game is packed into such a small box, production of the components is terrific and the meeples are so adorable with their items, they alone are a extra reason to play again and again.
Each round is broken into two phases: day and night. During the day, players travel far and wide, visiting villages to acquire quests, monuments to learn powerful spells, mushroom groves to seek guidance, and treacherous locations in search of artifacts! Acquiring artifacts empower the heroes with unique abilities; this may improve a heroes' movement or combat, or their ability to learn spells or mitigate harmful dice rolls. Heroes must travel to satisfy their quests — or to position themselves for what night brings.
As each type of movement is different, and limited, players need to take careful consideration when traveling, and how they travel, if they wish to accomplish all of their goals. During the night, players must face the challenge of their quests, and decisions, by rolling dice, hoping for fortune, and knowing when to quit. Will you press on? Or is it time to save your progress and rest?
Tiny Epic Quest Board Game Information
Age
14 up
Players
1 - 4
Time
30 - 45 mins
Tiny Epic Quest Board Game Awards and Nominations
☆ 2017 Golden Geek Best Thematic Board Game Nominee
☆ 2017 Golden Geek Best Solo Board Game Nominee
☆ 2017 Golden Geek Best Board Game Artwork and Presentation Nominee
How to play: Tiny Epic Quest Board Game Rules and Video
Board Game Contents and Specifications
Player Cards
4
Map Cards
17
Magic Card and Magic Token
1 of each
Round Card and Round Token
1 of each
Quest Cards
24
Adventure Cards
4
Movement Cards
5
Adventure Dice
5
Goblin Tokens
16
Heroes (3 each in 4 player colors)
12
Spell Tokens (4 player colors)
4
Health and Power Tokens
4 of each
Legendary Items (Sword, Shield, and Staff)
12 (1 set for each player)
Treasure Items
12
First Player Token
1
Item Rack (assemble with 3 parts)
1
Rules
1
Weight
370g
Box Dimensions
18 x 12 x 4 cm
Designed By
Scott Almes
Made by
Gamelyn Games
⚠ WARNING
This family board game may contain small parts. Not suitable for young children or people who like putting things in their mouth.
Buying a gift?
We can gift wrap your board game and include your own personal message.