Settlers of Catan - Explorers and Pirates Expansion 5th Edition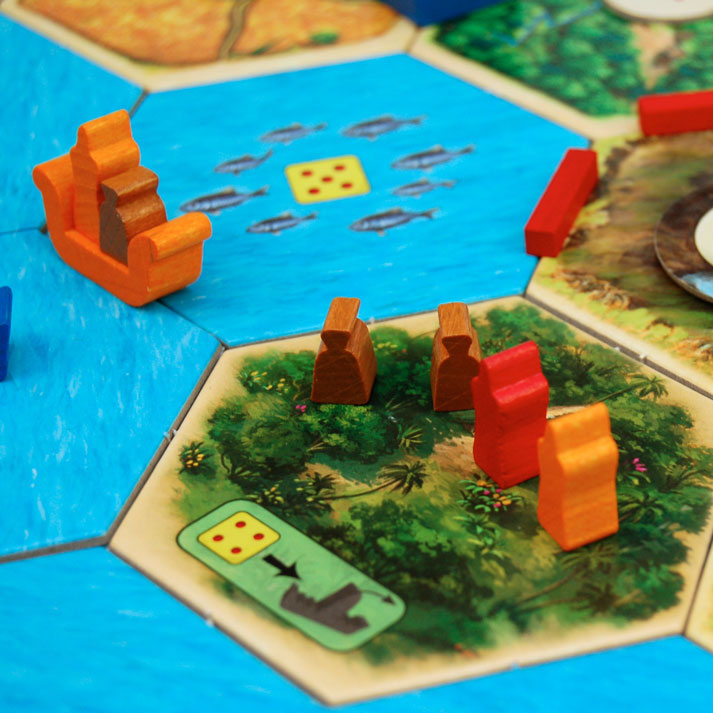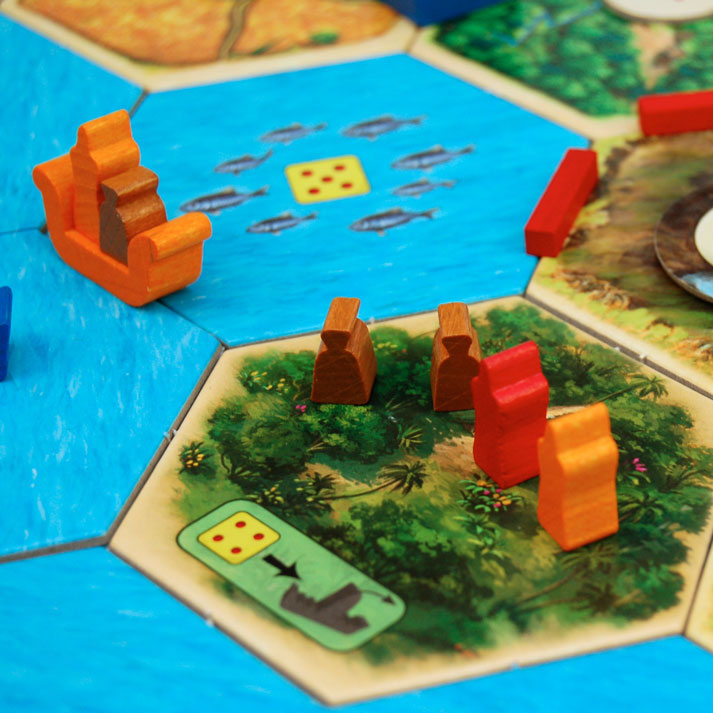 Settlers of Catan - Explorers and Pirates Expansion 5th Edition
The Catan Explorers and Pirates expansion is entirely dedicated to exploration! You set out for uncharted areas to build new outposts. The sketchy information available indicates that dangerous pirate lairs, rich fishing grounds, and helpful indigenous villages await you beyond the horizon.
To play Settlers of Catan Explorers and Pirates Expansion you require components from the Catan base game which will combine with new frame pieces and hexes from the expansion. Note: this expansion provides additional game play for 3-4 players it does not add additional players. To add additional players refer the 5-6 player extensions.
The new Explorers & Pirates expansion is based on the Catan base game rules but also contains a number of new game mechanisms. For example, ships are now equipped for expeditions and can be moved freely across the board. In the ships you transport settlers, crews, fish, or spices across the seas. Your goal is to build new outposts on the islands that are still undiscovered and to complete the Council of Catan's missions.
The Settlers of Catan Explorers and Pirates expansion is definitely filled to the brim with content but you Catan have made it easy to learn using a modular approach. In scenario 1, the introductory game, you are familiarized with the basic rules; then, piece by piece, you play the other scenarios containing the previously described missions. Afterwards, you can take your pick which scenario(s) you would most like to play.
Explorers and Pirates can be combined with other Catan expansions - great for adding more variety and challenges.
Click to visit the Catan website for more details
Not a complete game. To play this expansion you require:
To play this expansion with 5-6 players you require:
3. Catan Explorers and Pirates expansion (current game)

Games, expansions and extensions in the Settlers of Catan board game range
Age
12 up
Players
2 - 4
Time
90-120 mins
Board Game Contents and Specifications
harbor settlements
16
adventurers
32
ships
12
settlers
8
markers
12
pirate ships
4
fish
6
spice sacks
24
gold coins
76
frame pieces
12
gold field hexes
6
fish shoal hexes
6
spice hexes
6
terrain hexes and 6 number tokens (green backs)
6
terrain hexes and 6 number tokens (orange backs)
6
pirate lair tokens
6
mission cards
3
mission victory point cards
3
building cost cards
4
Rules
1
Weight
1.75kg
Box Dimensions
29.5 x 24 x 8 cm
Designed By
Klaus Teuber
Made by
Catan Studio
⚠ WARNING
This family board game may contain small parts. Not suitable for young children or people who like putting things in their mouth.
Buying a gift?
We can gift wrap your board game and include your own personal message.